FILM REVIEW – THE HUNTSMAN: WINTER'S WAR. With Chris Hemsworth, Jessica Chastain, Charlize Theron, Emily Blunt, Nick Frost. Written by Evan Spiliotopoulos and Craig Mazin. Directed by Cedric Nicolas-Troyan. Rated PG-13 for fantasy action violence and some sensuality. 114 minutes.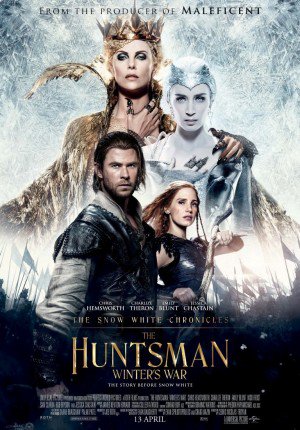 With the film starring Chris Hemsworth and given the title THE HUNTSMAN: WINTER'S WAR, the casual moviegoer should be forgiven for thinking this is the latest entry in the Marvel Universe. In fact, it's a prequel/sequel to"Snow White and the Huntsman" (2012). And due to various matters off-screen, it's one in which Snow White–played by Kristin Stewart in the original film–is seen only briefly.
Instead, what we get is the origin of the Huntsman, Eric, played by Hemsworth. When the evil Ravenna (Charlize Theron) assumes the throne, her younger sister Freya (Emily Blunt) discovers she's pregnant by a man pledged to another. Horrible tragedy ensues and Freya leaves her sister having developed her own supernatural powers to become the Ice Queen. She brutally rules over the Northern Realms, rounding up the local children to be trained as soldiers in her army. Young Eric is one of them. Sara (Jessica Chastain) is another. They fall in love, in violation of Freya's rules.
That's essentially the first act of the film, which then jumps ahead several years to the post-Snow White "present," in which the enchanted mirror held by the late Ravenna has been stolen and Eric is employed to get it back before it falls into Freya's hands. He's accompanied by Nion (Nick Frost), one of the dwarves from the earlier film, and a new dwarf character Gryff (Rob Brydon), to provide some comic relief. If that's not enough, two more dwarves, Mrs. Bromwyn (Sheridan Smith) and Doreena (Alexander Roach), provide some love interest as well. To reveal any more of the plot would be to give away the film's surprises, so suffice to say there is romance and fairy tale adventures before the inevitable showdown over the evil mirror.
The movie has two things going for it. First is a strong cast, bringing some weight to characters who could easily be mobile mannequins. That three of the four principals are women and–in different ways–strong women, makes this an interesting standout against most of what's in theaters. Theron, Blunt, and Chastain are all solid performers who bring some nuance to their characters. They make Hemsworth have to work at being more than a conventional hero, and he succeeds, seeming to channel a bit of Errol Flynn in his derring-do.
The other plus is the art direction. From the castles to the costumes to the special effects, this is a movie that looks magical without looking like everything we've seen already. The story may not be deep, but it remains visually arresting while it's unfolding.
There probably wasn't a crying need for a sequel to a "Snow White" movie, particularly one that doesn't include Snow White, but considering how many superhero movies are in the pipeline for the months ahead, "The Huntsman: Winter's War" gives as a fairy tale that's fresh enough to be engaging.•••
Daniel M. Kimmel is a veteran movie critic and author of a host of film-related books. His most recent book is "Shh! It's a Secret: a novel about Aliens, Hollywood and the Bartender's Guide." He lives in Somerville, Massachusetts.